yoga on koh phangan with thai instructor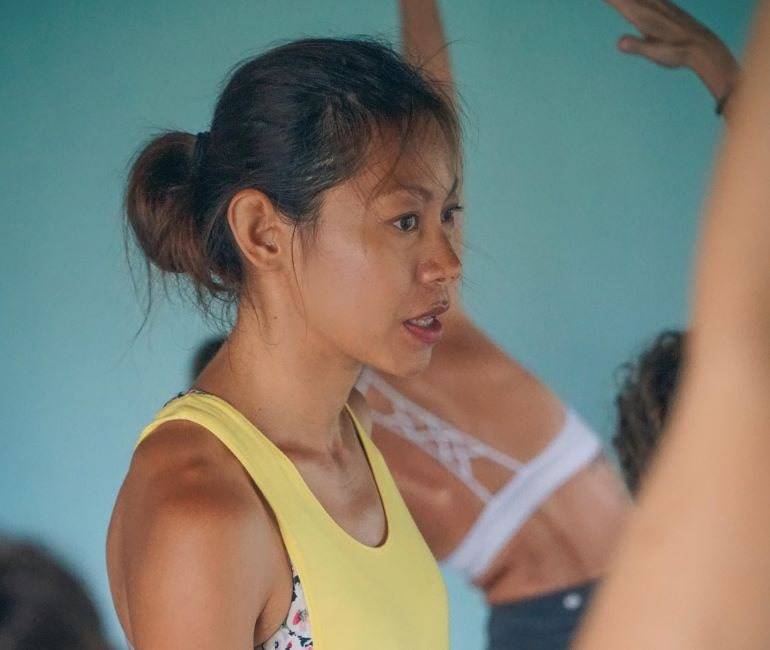 Explore the essence of yoga in this idyllic island setting, where each pose becomes a mindful journey of self-discovery. With the guidance of a native Thai instructor, you'll connect deeply with the practice and the breathtaking beauty of Koh Phangan. Whether you're an experienced yogi or new to the mat, Sunny classes are designed to meet you at your own pace. Join Sunny on this path of well-being and experience yoga on Koh Phangan like never before. 
Sunny is a registered teacher with Yoga Alliance (E RYT 500 received in 2011 and 2018 respectively). Since 2011, her experience in teaching in-studio class and teacher trainings (nearly 30 TTCs as a lead trainer) teaching in various subjects. 
Sunny grew up near Bangkok and emigrated to Canada in her twenties, where she worked in palliative care in a hospice. Working with patients in their final stage of life had a profound effect on her, teaching her about acceptance and living in the moment and made her question the deeper meaning of life. 11 years in Canada had not only broadened her horizon culturally and linguistically but also set the stage for her Yogic path. After many years of exploring her passions and fears, investigating life's purpose, and picking herself up after each fall, a period of depression provoked questions such as 'why am I here?'. Sunny did not seem to fit into the 'conventional' life so she ventured out, challenged her world view, went through ups and downs of discovering her true nature, who she really is, where she wants to be, and what her purpose may be.'– As a result, she decided to move back to Asia in 2010 to pursue her Yoga training in India and subsequently move to Koh Phangan to fulfill her dream of opening her own school. All of life's hurdles she had faced and overcome with grace, sweat, and tears, have shaped her into an amazingly strong-minded and inspiring woman and teacher.
Having lived and worked in both the Eastern and Western worlds provides Sunny with a well-rounded understanding of people and their aspirations. She intrinsically merges traditional and modern aspects of philosophy and practice from her rich life experience, which makes her one of the most renowned and charismatic teachers on the island. She loves to challenge her students, physically and mentally to encourage them to become the best version of themselves. Her passion for teaching, upbeat personality, and humor make her classes and trainings a true joy.
Sunny trained in Sivananda, Hatha, and Ashtanga Vinyasa yoga and incorporating other styles of yoga in her teaching, Sunny's classes and trainings have a firm foundation in Hatha & Vinyasa yoga. She is very passionate about sharing her knowledge with those pursuing a sincere path of physical and mental self-improvement, which can be felt in all of her classes. She is one to challenge her students in just the right amount, mastering a good balance of work & play.
Sunny is a mother of two beautiful children, who live with her on Koh Phangan and keep her 'real'. In her free time, Sunny loves riding and hiking around the island, sipping a good coffee while pondering about life, and dancing her heart out as often as her busy schedule allows. Sunny is a very active community member on the island, engaged with the local schools, nature parks, and community events.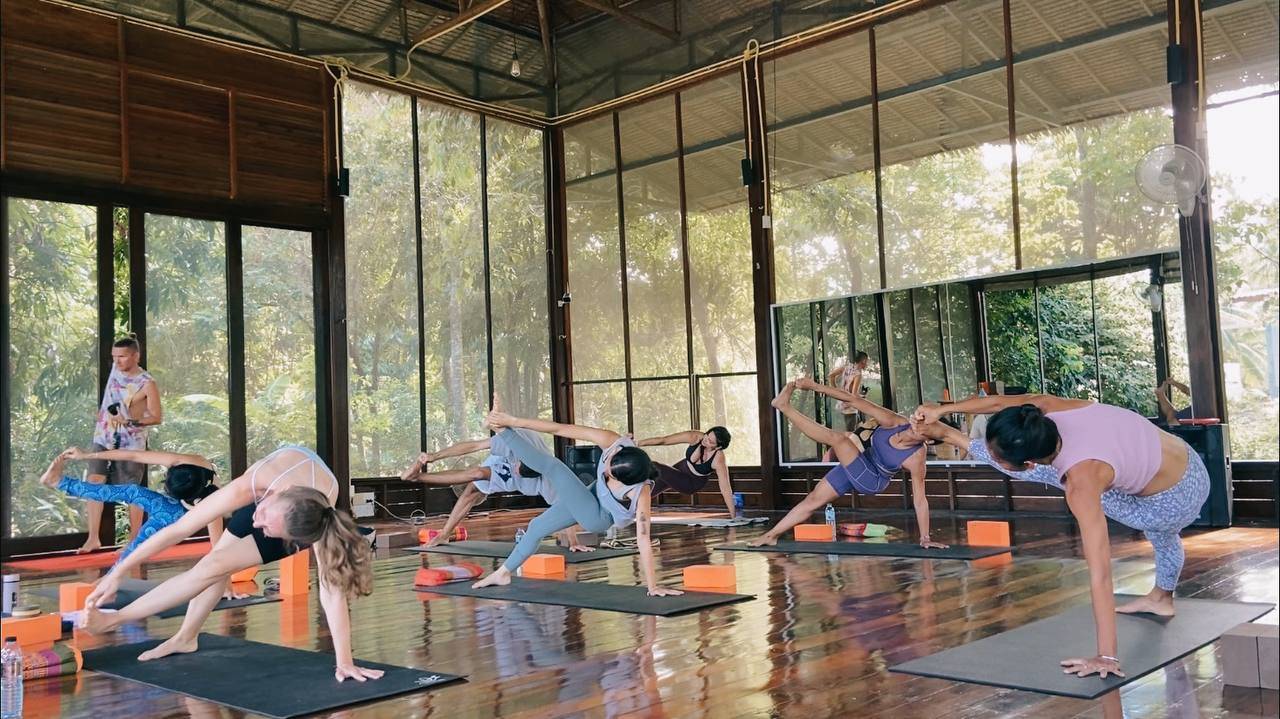 Sunny's drop-in yoga classes on Koh Phangan are famous for being physically, mentally, and energetically challenging. Her vinyasa yoga classes are a fun, energetic, continuous flow to help you improve your strength, flexibility, and concentration. The precise details of proper alignment in each posture will help you stay connected with your body and the breath for each movement. You can expect some advanced postures (with options for beginners) in her Vinyasa Yoga classes. Check the schedule for time and location.
Christoffer Brick
2023-08-01
recommends
I recently took a yoga teacher training course where Sunny was teaching the art of teaching, going in detail through all the asanas and teaching vinyasa yoga. Sunny is highly professional and an absolute delight to be around. She explained everything in great detail, was always patient and to the point. Her sense of humour is contagious and she has the great gift of bringing lightness and joy to her classes while at the same time being serious and committed to the practise. 💯 recommended ❤️🙏
Jannicke Sandvik
2023-07-30
recommends
Sunny is wonderful! Her verbal cues and demonstrations really help you get correctly aligned and stay safe from injuries. At the same time her classes are vigorous and so much fun! She also brings a lot of heart and light, allways leaving you feeling great after class!😍
recommends
15/10 unbeatable yoga experience. Sunny has such a great, open, friendly manner and offers you an experience that goes far beyond pure yoga and asanas. Great teaching style, inspiring personality, good mix of seriousness and fun. She puts a lot of energy into her work and really cares. Very grateful to have Sunny as a teacher in my YTT. ขอบคุณ 🙏🏼.
recommends
I just finished my yoga teacher training with Sunny and I can say that she is one of the most outstanding yoga instructors I've ever had. She is knowledgeable, compassionate, driven, and leads with her heart. Her instruction is always clear and easy to follow, and her practice is beautiful, demonstrating her expert technique and grace. She really shows up with such an authentic presence that will push you to always be evolving in every area of your life. We are grateful to have had her for our training ❤️!
recommends
Kru Sunny is a prime example of a sublime teacher. Patient, kind, caring and humourous. All of her classes were saturated with knowledge and smiles. Students automatically respect her through her graceful, elegant yet humble demeanor. Her asanas and demonstrations are so exquisite to behold. I would have no hesitation in recommending Sunny in teaching all levels of yoga. She is so warm and kind hearted. A very charming likeable person and graceful teacher. Thank you for everything you shared with us all on our YTTC 200 hour course. I will cherish these memories always and respect you until my last Savasana. Om shanti shanti shanti 🙏
Julia Gollobit
2023-06-08
recommends
I highly recommend Sunny! She holds so much knowledge about each pose and effective teaching. She is incredibly motivating and her sense of humor is the cherry on top!
recommends
I had some drop-in yoga classes with Sunny in 2018, and it had been my dream to study yoga with her since then. Finally my dream came true. I just finished my 200 TTC training with Sunny. She put her heart into teaching. Every class was fully loaded with her expertise in yoga, enriched by her personal stories. She has so much to offer about yoga teaching. In every session of her art of teaching class, I learnt a lot about each posture, gained new knowledge about my body and myself. For postures I couldn't do yet, she would demonstrate how to get in and how to get out in a very detailed way. She cares about how you and your body felt. I never felt the pressure to try postures I felt I was not ready for yet at that moment. When you displayed the willingness to go further, she was always there to guide you. For postures I could do and thought was simple and easy, such as Gorilla and abdominal twist, I came to realize I did nothing right. I hope I know much fancier words to describe how amazing Sunny is as a yoga teacher. I enjoyed every class with her.🌞🌻
recommends
Amazing yoga teacher! I did my Yoga Teacher Training with Sunny and learned so much. Totally recommended! Thank you Sunny ✨💫
Victoria Kasar
2023-06-01
recommends
It was an honor to be in Sunny's YTT200 class – she is truly an expert and an absolutely awesome teacher. So much knowledge of the body and each asana, and with such humility and charisma. I enjoyed each and every class with Sunny and I learned SO much from her. THANK YOU Sunny!🙏
Lauren Kilbride
2023-06-01
recommends
Sunny was such a blessing to come across as well as an inspiration of a teacher. She brought such a new light to yoga for me in the way she teaches alongside her personality shining through. If you get the opportunity to do a class or to learn from her definitely take it. I could not recommend her more for someone who is starting their yoga during or is an expert yogi.