THAI-AYURVEDIC MEDICINE WORKSHOP
with licensed thai traditional medicine doctor
DECEMBER 17th - 19th, 2023
Welcome to our 3-day Thai-Ayurvedic Medicine Workshop with a licensed Traditional Medicine Doctor, Karn Thanadechaparn.  We'll learn and explore the secret properties of  Thai herbs, whether in nature or your kitchen and garden, and their effectiveness in preventing and treating many symptoms. The workshop covers a wide range of topics, including the immune system, reproductive and lunar cycles, and how to balance the five elements with herbs for a healthier life. Each day of Thai-Ayurvedic Medicine Workshop is packed with knowledge. We will also learn to make medicine that you can use for yourself and your loved ones.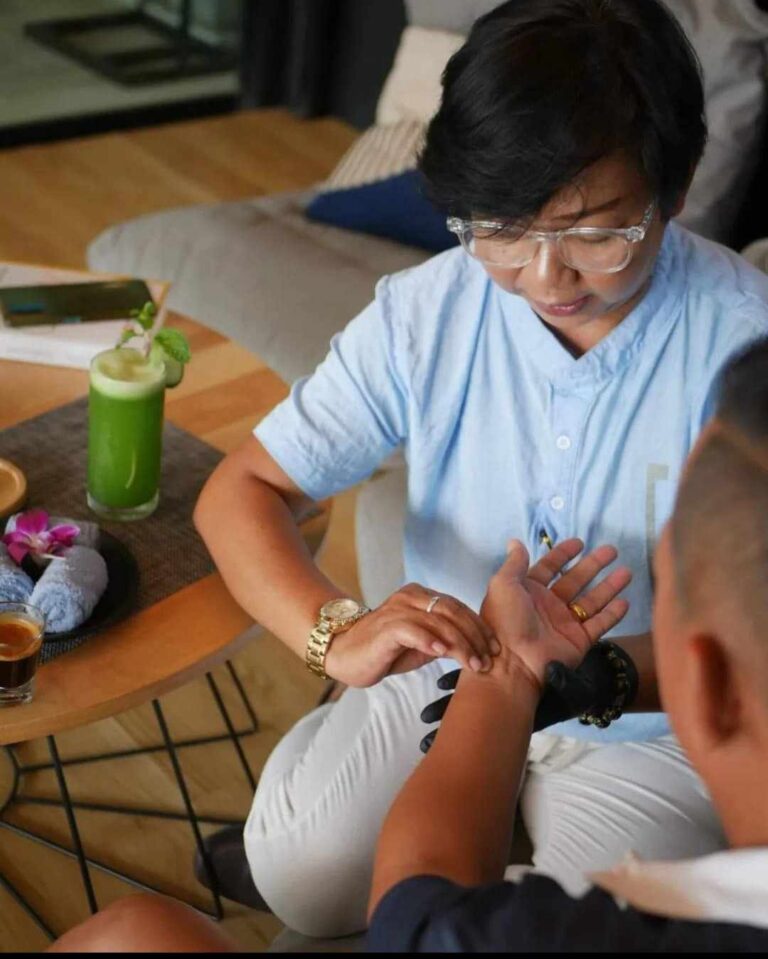 TRADITIONAL THAI MEDICINE DOCTOR
Karn was born and raised in Phuket, Thailand. Before starting her career as a Traditional Thai Medicine (TTM) doctor, Karn worked in the well-being industry for more than 10 years. She is a qualified and experienced practitioner in Holistic Bodywork, Qi-Nei Tsang, Karsai Nei Tsang, and Tok Sen, just to name a few.
Her journey into well-being and energy healing began with Karn experiencing a serious injury, which led to her receiving healing from a master and herbal remedies. Since then, Karn has fully devoted herself to helping and healing people and, in that choice, simultaneously found her purpose in life.
In 2016, Karn finally registered herself to study as a TTM doctor. After four years of study and hard work, Karn graduated in 2020 and received her Traditional Thai Medicine License soon after. She continues her education through an extensive study combining medicine, herbs, and harnessing the magical effects of cannabis. 
"To help is a blessing to the soul, bringing joy and peace" – Karn
Furthermore, she absolutely loves to share her knowledge of the healing arts with you.
DAY 1 
December 17th, 10:00 am – 2:30 pm
We start with an opening ceremony in the Thai tradition. Followed by an introduction to Thai Vedic medicine, Thai herbal medicine, and their benefits, an introduction to 5 elements, plus making an inhaler to relieve nasal congestion, sinusitis, migraine, and for better sleep. 
DAY 2
December 18th, 12:00 – 4:30 pm
A lecture on digestive, immune, and reproductive systems. How to use herbs to help those systems, including herbal for moon cycle cramps. Plus how to balance 5 elements and make medicine for healthier eyes and joints, and medicine to help rejuvenate 5 important organs.
DAY 3
December 19th, 12:00 – 4:30 pm
On the last day of the workshop, we are focusing on hands-on making medicine.
Medicine for prevention and healing of inflammatory joints and arthritis. 
Medicine for detoxifying the digestive systems. 
Making natural soap for skin allergies and after insect bites. 
Secret on how to keep skin looking young, and special ice baht secrets.
Three days package: each participant will receive a 30-minute consultation from Karn and herbal medicine giftsets.
RECOMMENDED
All 3 Days
Early bird price
Available until Nov 30th, 2023
Register
* Required minimum 5 participants
Thai-Ayurvedic Medicine workshop taking place at Sati Yoga located in Srithanu of Koh Phangan, Thailand. Google map